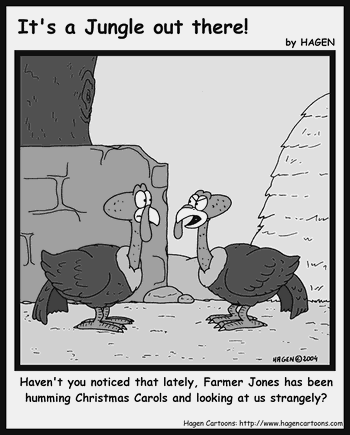 Sudiegirl sez: Oh my…makes me proud to be an American. Let's just hope Dick Cheney doesn't come over and decide he wants to hunt.

150 Vie for Wild Turkey Calling Title
(And I'm sure their mothers must be proud.)

By KRISTIN M. HALL, Associated Press Writer
Sun Feb 26, 6:37 PM ET

Gobbles, clucks and coos spill out of the grand ballrooms, but there are no live turkeys on the floor of the Opryland Convention Center. (Oh, I don't know…they seem like turkeys to me!)

Instead, about 150 men, women and children are doing their best imitations at the championship of turkey calling, the annual Grand National Wild Turkey Calling championships. (You wanna hear my Wild Turkey Call? "Waitress? Another round over here, please!")

The National Wild Turkey Federation Convention that began this week brings some 40,000 hunters and exhibitors from across the nation to Nashville, but the spotlight is on the turkey callers. (Well, that's not nice…that's discriminatory! I mean, what about those who don't have a phone and have to write instead of call? Or those that choose to e-mail? Could you imagine the e-mail? "Gobble gobble, gob-gob-gobble-coo-coo-chirp-tweet." Translation: Dear Bill, when are you going to return my garden hose? Sincerely, Charlie.)

"When you get up on that stage, you're nervous," said three-time champion Jim Pollard from Heflin, Alabama. "Your hands are shaking, your palms are sweaty. It's hard to keep control." (Oh yeah…there's further incentive right there. "It's agonizing as hell, but hoo doggies!")

Standing alone on a stage in front of a completely silent crowd, the competitors are at times visibly nervous, wiping sweat from brows and pacing back and forth. (Kind of like their prey, huh?)

A giant TV screen zooms in on hands and faces, as the callers are asked to perform four different sounds in four minutes. (Nothing like a little added pressure, is there?)
The calls can be high-pitched whistles like the "kee-kee run," which is used by hunters to imitate a young turkey. (What about the "pee-pee" run, which imitates the hunter that had one too many Budweisers while waiting for the turkey to show up?) One call — a "cluck and purr" — is much softer and competitors typically sit down on the stage to concentrate on the sound. (That sounds like some sort of mating call you might hear at Hooters on a Saturday night.)

"I thought I had a beautiful run until the last call, which was a cluck and purr," Pollard said. "It's a finesse call — you've got to lighten up on everything and be real easy on it. I flubbed up on it and my scores showed it." (Man, they're serious about this stuff!)

This year's championships feature a new category — friction calling — for callers who produce the turkey sounds by rubbing objects together, typically a slate or a metal box that is scraped with a stick. (Oh, my dirty mind has come out to play. My goodness…I gotta keep it clean, though, folks.)

"Friction calls are some of the most realistic calls there are," Pollard said.

When the National Wild Turkey Federation started in 1973, there were only about 1.3 million wild turkeys in North America. Today, the population stands close to 7 million birds. (Well, PETA can relax…this is one species that is actually increasing even though they're hunted. Either that, or most hunters suck at turkey calls.)

Scott Vance, the federation's director of conservation partnerships, said the organization has helped revitalize turkey populations with trap and transfer programs and by working with government agencies to conserve turkey habitats. (I wonder if they'll create a sample of a turkey habitat and recreate my first husband's apartment. Har-Har!)

Turkey hunting is "really a one-on-one situation where you have to mimic the calls to attract the animals to you," Vance said. "You really feel like you're connected." (And if you're connected to a turkey…well, words can't begin to describe the situation.)
___
On the Net:
National Wild Turkey Federation: http://www.nwtf.org/
Sudiegirl's final opinion?

Gee, there isn't much I can say that the situation hasn't said for itself, now, can I?

Gobble-gobble.