Sudiegirl sez: The reasons I don't watch "American Idol" are legion. Go visit my blogger colleague Little Green Friend at "Mai Tais and Yahtzee" to read his friend's absolutely true story about her "AI" audition. Click here to read about it. In the meantime, I've sharpened my fangs and am ready for some British meat (as well as other interlopers that get in my way). Roll 'em!


GLAAD Mad at "American Idol"
By Sarah Hall
Tue Jan 24, 8:15 PM ET

American Idol has been accused of being tone deaf when it comes to tolerance. (It's nice that they've diversified…they used to be tone deaf about MUSIC!)

Last week's season premiere of the talent search drew the ire of the Gay and Lesbian Alliance Against Defamation, after both Simon Cowell and Randy Jackson made remarks that the activist group characterized as offensive. (Not cool in this day and age. It's one thing for someone to say it in the privacy of their own home, but not on national TV!)

While snarky banter and nasty putdowns are standard form for the American Idol judges, GLAAD contends that Cowell and Jackson each crossed the line by taking aim at contestants' sexuality during the fifth-season premiere of the talent search. (I don't know what horrifies me more…the fact that they were dumb enough to say these things or the fact that this show has had five seasons under its belt already.)


After one male contestant's performance at the Chicago auditions shown in last Tuesday's episode, Cowell snapped that he should "shave off the beard and wear a dress," because he would make a "great female impersonator." (That's not nice at all, but could you imagine if he had the cojones to say it to an actual woman that had a facial hair problem?)



Jackson followed suit Wednesday night, asking an androgynous hopeful named Zachary Travis, "are you a girl?" After gamely laughing off the dig at his gender, Travis gave his performance of Whitney Houston's "Queen of the Night," which was, to be fair, less than impressive. (Well, something tells me the thoughtless remark didn't help the guy's performance very much.)



In typical fashion, Cowell deemed the rendition "atrocious" and "confused,"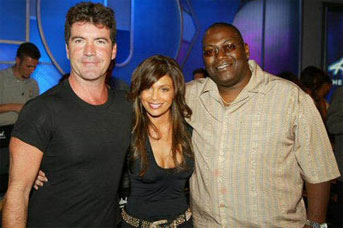 leaving the would-be Idol in tears. Making matters worse, as Travis cried to his family on-camera after his audition, Idol producers cued up the theme to 1992's gender-bending film, The Crying Game. (Oh…I smell a defamation lawsuit! Sue, baby, SUE! I'd love to be the paralegal on this case…)


"The real offense here was in the producer's decision to add insult to injury by turning a contestant's gender expression into the butt of a joke," GLAAD Entertainment Media Director Damon Romine said in a statement. (I have to say I agree. As I said before, there's a difference between what one says in the privacy of their own home and being personalities on a TV show, spouting off to millions of home viewers. Many people watch this show whether I like it or not, and it's just stupid to do.)

As a result of its concerns, GLAAD contacted the network in order to discuss the group's stance on Idol.
(Wonder how nice about it they were? I think I'd be packin' blunt instruments, but that's because I've got a temper of some sort. The picture on the right also has a good idea, but something tells me eating Simon Cowell would make the polar bear sick.)

"We've spoken with Fox and have entered into what we hope will be a productive, ongoing conversation about the show's representation and discussion of sexual orientation and gender expression," Romine stated Monday. (That's a really complicated way of saying, "Shut the hell up, you guys! If you can't say anything nice, don't say anything at all.")


Fox declined to comment on the matter. (Good call…no sense gagging on your own foot, now, is there? BTW, the "No Bozos" insignia is a tribute to Fox's thoughtful silence.)

GLAAD isn't the only activist group stepping up to call Idol out on questionable behavior. (YAY!)

Niger Innis, national spokesman for the Congress of Racial Equality (CORE), told TMZ.com that the group was concerned about Idol's treatment of people of color. (I don't watch the show so I must admit I don't know about it…but heck, two people of color have won it already so who knows? Unless they're talking about the preliminary tryouts they show…I have no clue whatsoever. Since I can't try out because I'm too OLD, I don't give a flying fig.)

"American Idol is part of an entertainment culture that often makes blacks look like a bunch of clowns," Innis said. (Well, I personally think American Idol makes EVERYONE look like clowns, but what do I know?)


Meanwhile, the National Association to Advance Fat Acceptance (NAAFA) is upset over Cowell's persistant jabs at overweight contestants. (Nice…really nice, Simon. Remind me to put that humanitarian award statuette on backorder for you…)

"I have mixed feelings about American Idol," Peggy Howell, NAAFA'S public-relations chairperson, told TMZ.com. "We saw how far Ruben Studdard has gone because of the show. However, Simon Cowell continues to make rude remarks about overweight and obese contestants." (You know what? I'll bet ya dollars to donuts that Simon used to be overweight himself as a kid, and it's insecurity or something on his part. I mean, come on! Can you consistently be comfortable with saying mean things about people for this long without some psychological baggage of your own?)

Despite the controversy, Idol notched monster ratings last week, with Tuesday's episode drawing a
whopping 35.5 million viewers and Wednesday's episode attracting an only slightly less impressive audience of 31.4 million. (God, human beings are lemmings without fur, I swear to god.)

The show returns Tuesday, showcasing the Greensboro, North Carolina auditions, and Wednesday, featuring the San Francisco auditions. (Skipping both of 'em, I'm sorry to say.)

In other Idol news, a man accused of stalking season four finalist Jessica Sierra was denied bail Tuesday after a judge determined that he was a flight risk. Daniel Robert Young was arrested last week, after he flew from California to Tampa, where he was apprehended by police at the home of Sierra's grandparents. (EEEWWW…too creepy.)

Meanwhile, current contestant Derrell Brittenum joined his twin brother, Terrell, behind bars after turning himself in Friday to Georgia authorities on charges of forgery, theft by deception and financial identity fraud. (Also sad.)
Derrell spent the weekend in a Rockdale County, Georgia jail cell, before being released on a $30,000 bond. Terrell remains behind bars in Tennessee without bond. Fox has not commented on whether the brothers will be seen on future Idol episodes, though both made it through the Chicago audition.


Sudiegirl's final opinion?

First, I'm sure Peter from Australia will be reading this and asking the same question...if you don't like it, why write about it? Answer: because it makes me feel better, and because it's MY BLOG AND I'LL DO WHAT I WANT WITHIN THE REALMS OF TASTE!!!
Second, I know I'll never be on American Idol, but if I were, and Simon made comments about my appearance, I'd come sit on his lap and give him a big ol' kiss, saying "Fatness is contagious...I'm starting an epidemic." Take that!

I live to give...that's all I've got to say.